Cannabis legalization is cultivating support all across the USA. Positive cannabis reform laws are being passed every year. Currently there are 8 states with legal recreational cannabis for adults 21 and over with a valid ID. There's also 28 states with some form of medical access for children and adults with valid med cards and prescriptions. With all the smoke blown in the eyes of the public in the past, teaching people the truth about cannabis in the U.S. is harder than you may think.
Luckily people in America are catching on to cannabis and all it has to offer them. You could say its growing on them like a weed. The Cannabis of yesteryear is not what we have today. In the past only a few strains were available to select people with a good connection.
Today there's a multitude of Indica, Sativa and hybrid cannabis varieties available in cannabis dispensaries where it's legal in the US. The strains that are favorites have been influenced over the last several decades and include strains that are not only legendary in the US but are known globally. Check out these 10 insane cannabis strains that are popular across the United States.
10 Real Hits in The U.S.
1. OG Kush
Ocean Grown Kush AKA OG Kush has been a favorite in the United States since it popped its head up in the 1990s. Growing from popularity in California and reaching across the entire U.S., OG Kush is now a favorite today anywhere you go. This hybrid has a secret genetic history though some believe the parents are the legendary Hindu Kush and Chemdawg. With an average of 19 to 26% THC, an earthy piney flavor and an incredible high, in America OG Kush is one tasty bush.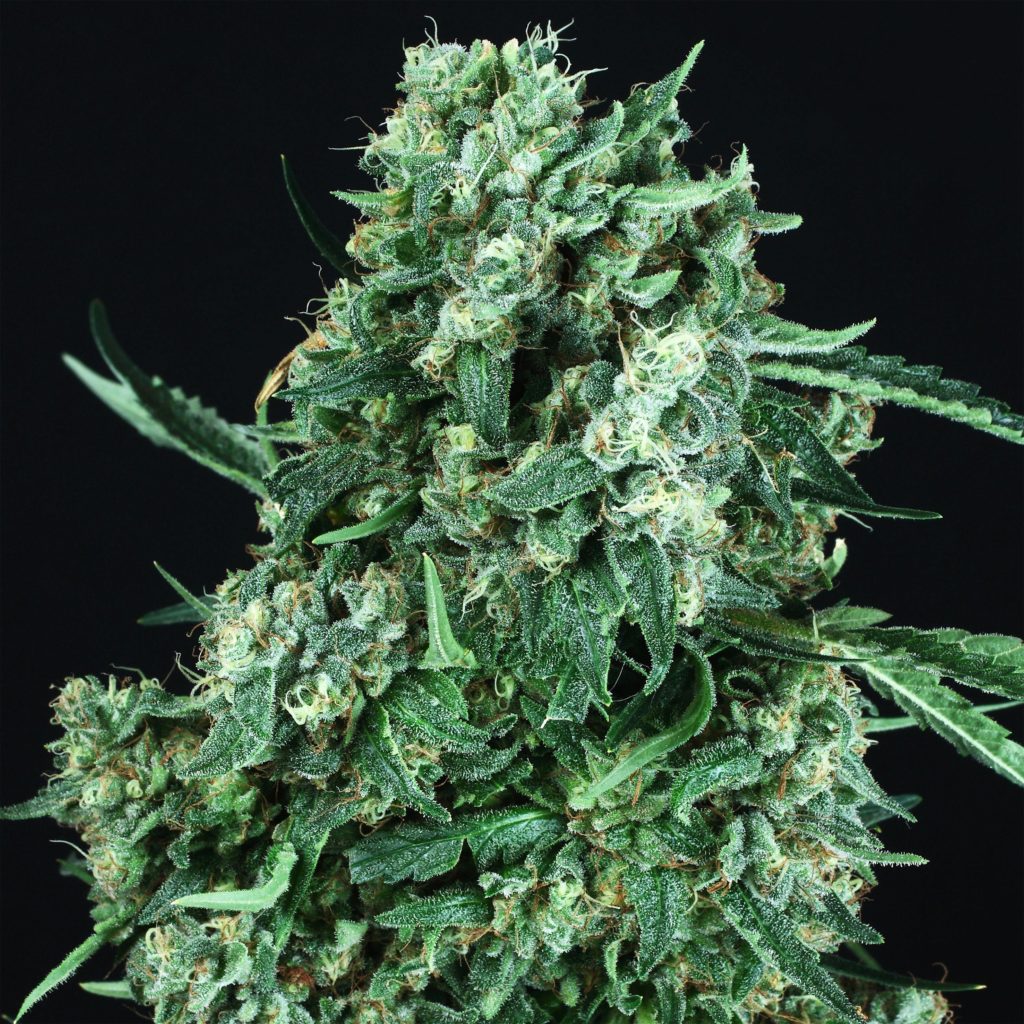 2. Diesel
The Diesel strain of cannabis is another favorite. Just like OG Kush is a favorite on the west coast the Diesel strain took the east coast by storm. Sour Diesel, New York City Diesel, Blue Diesel, Biodiesel, and Dieseltonic are just a few of the Diesel hybrid varieties of cannabis that so many have come to love. The Diesel strains of cannabis are known for their pungent aroma and strong diesly and citrusy flavor. On average you can expect between 16 to 26% THC with these hybrid cannabis strains.
3. Haze
Haze is a Sativa dominant cannabis strain that has been a favorite in the United States since the early 1970s. Jimi Hendrix allegedly wrote the song Purple Haze to pay homage to this incredible strain of cannabis. The euphoric uplifting cerebral effects from the high of this Sativa strain of cannabis are said to be the motivation and inspiration behind the creativity of engineers architects, artists and musicians. Haze comes in a variety of hybrids such as Mexican Haze, Super Silver Haze, Lemon Haze, Amnesia Haze, Super Lemon Haze and a wide array of many other Haze hybrids. Haze is known to take some time to cultivate to perfection but the wait is well worth the rewards.
4. Girl Scout Cookies
Girl Scout Cookies is another hybrid favorite enjoyed all across America. Not just Peanut Butter Tagalongs but the herb too! This hybrid is said to be the child of Durban Poison and OG Kush. This highly sought-after strain of cannabis has won countless awards from High Times Cannabis Cups to Highlife Cups across the cannabis community. Girl Scout Cookies come in testing with an average 17 to 28% THC as well as a broad spectrum of other cannabinoids such as CBN, CBG, CBC and others.
5. Gorilla Glue #4
Gorilla Glue #4 won the 2014 High Times Jamaican World Cup and the Los Angeles and Michigan 2014 Cannabis Cups. This strain of cannabis is a favorite from the east coast to the west. You can always expect great results from this cannabis strain. The uplifting sativa characteristics make it great for a morning wake and bake or afternoon sesh. With a pungent aroma and an earthy piney flavor, Gorilla Glue #4 is always considered a great score. THC percentages average between 18 – 28%.
6. Nine Pound Hammer
Nine Pound Hammer is a legendary cannabis strain that is predominantly found in United States on the west coast in Oregon. This Indica strain of cannabis is hard to get your hands on. As soon as someone gets it in consumers swoop in buying it all up. A Nine Pound Hammer reportedly takes good skill to flower to perfection. Parents of Nine Pound Hammer are said to be Hell's Angel OG, Jack the Ripper, and Gooberry. Nine Pound Hammer tests at an average THC percentage of 19 to 29%.
7. Skunk
Skunk is available in a multitude of hybrid cannabis strains today but none of them are quite like the original. The original Skunk of the past is a blast you might not be able to get your hands on ever again. Numerous breeders got their hands on the genetics and crossbred them with other cannabis strains to help bring down the pungent odor that was getting so many people busted when trying to do their guerilla grows at home back in the 1980s. Finding a real Skunk plant that hasn't undergone crossbreeding to remove the pungent odor is said to be impossible today. For this reason, Skunk genetics can be found in a multitude of hybrids like Lemon Skunk, Shiva Skunk, Island Sweet Skunk, Sweet Skunk CBD, and more. On average THC percentages start at 17% and come in as high as 25%.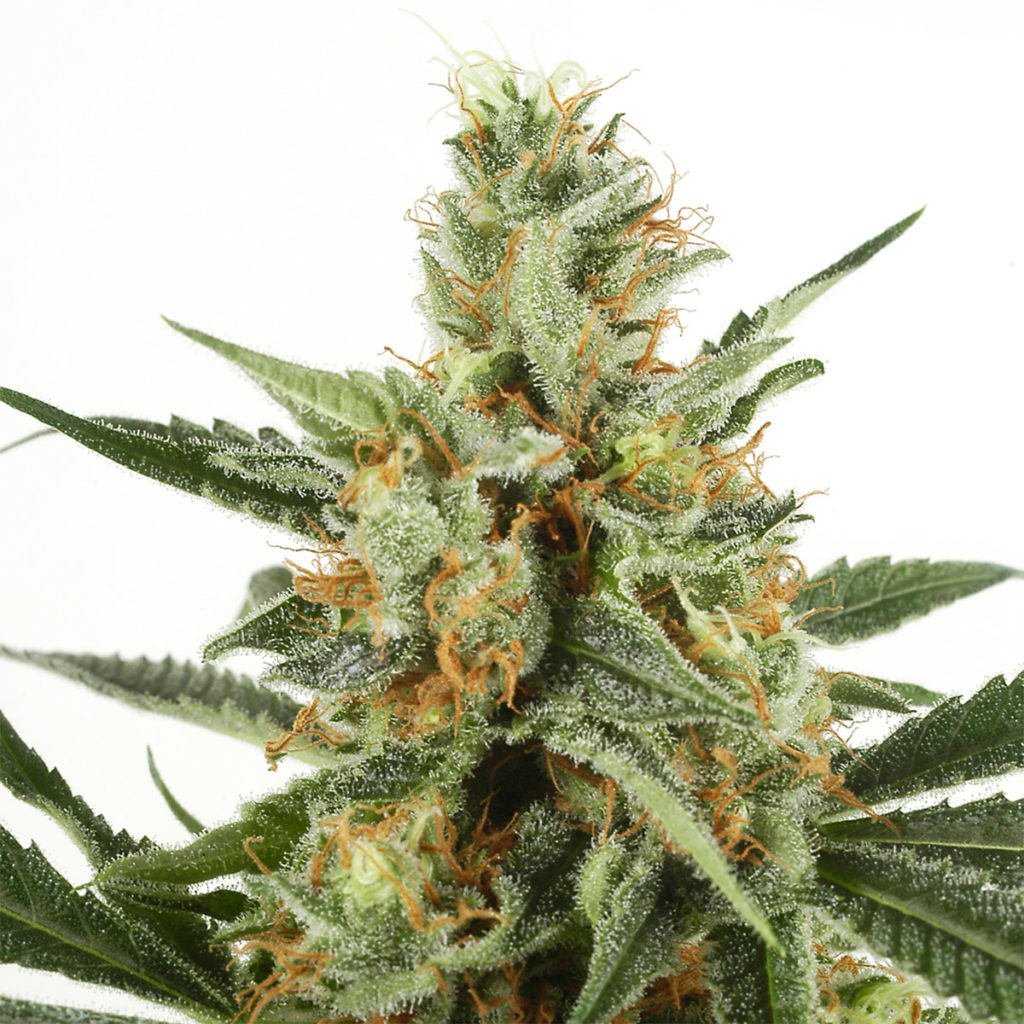 8. Pineapple Express
Pineapple Express is a combination of Hawaiian and Trainwreck genetics that consumers across America can't get enough of thanks to the Seth Rogan and James Franco movie Pineapple Express. Consumers report Pineapple Express to have a fruity flavor resembling mangoes, pineapple, pine and apples. Some even say they taste a hint of cedar. The Sativa characteristics of this hybrid provide a euphoric, uplifting, inspirational and motivational buzz for consumers. With a THC percentage averaging between 18 to 28% Pineapple Express helps many in the U.S., to express, their love for cannabis.
9. Flo
Flo is a hybrid strain from the breeder DJ Short out of Oregon. This delectable combination of Purple Thai and Afghani is an Indica dominant delight. Flo will make love to your mouth with every inhale. Each puff tasting like sweet honeysuckles. The high is a long-lasting one coming in with an 18 to 28% average THC percentage. This strain is enjoyed by consumers across America​and has been since it was the overall number one rated Cannabis Cup winner back in 1996.
10. Chemdawg
Chemdawg is an old-school strain with a claim to fame that has withstood the test of time. Today it is available in a multitude of hybrids such as Chemdawg​ 4, Chemdawg 91, Royal Purple Chemdawg and more. This strain has been captivating consumers in the U.S. for decades now. Chemdawg has been the parent of legendary strains like OG Kush, Sour Diesel and others. You can expect a very euphoric Sativa like high from the average 15 to 25% THC found in this award-winning legendary cannabis strain.
A Blazin Green Future For U.S. Cannabis
Thanks to cannabis legalization happening in the United States of America the way we consume cannabis as US citizens is changing. Instead of just blazing on some old round town brown consumers are becoming wise to what they're putting in their bodies.
Lab certified tests that let us know what goes into a grow helps consumers to rest assured they're getting the highest quality for the dollar. Cannabis legalization is doing more than offering people in incredible medicine. It's also offering individuals who previously would have had no chance at financial security and shot at future generational wealth for their families.
Cannabis is also seeing a green future in the USA​ because support is growing on not just the medicinal attributes it offers but the agricultural and industrial applications it can provide too. A growing trend in cannabis is moving away from the old calendar grow that produces as much pot in a crop as fast as you can and heading towards a different plan.
Cannabis Is Finally Getting The Attention It Deserves
Craft cannabis is catching fire across America. Small cannabis crops are grown and allowed to flower to Perfection rather than being pushed and rushed to meet a calendar deadline. Craft cannabis grows are done with the highest standards of organic gardening.
Some are even taking organic gardening to a new height with Veganics such as Kyle Kushman has done. With cannabis legalization showing no sign of slowing down in the future and America predicting that have legal access to cannabis in every state by the year 2021, when it comes to the cannabis we love to consume in America, with legalization these favorite strains are bound to change.