Cannabis cuisine has exploded much further than just a home experiment. Although home is where most of it began, cannabis cuisine is now a world business, with chefs all over the world competing for the title of the best cannabis chef. It's time to meet some of the world's cannabis infusion masters!
Recreational edibles and drinkables have exploded into the cannabis market with delicious success. In fact, the way that cannabis has made its way into the culinary world is crazy. People are having weed bars at their weddings and professional bartenders are whirling together canna-cocktails.
Well, the modern cannabis culture is in a stage of birthing out some of the most amazing chefs we've ever seen. At the end of the day, it's not easy to make a cannabis-infused meal delicious. The sharp taste of THC resin isn't exactly the perfect herbal addition to a pasta alfredo. As the culture for cannabis food expands, so does the quality of the chefs that are born.
As much as love for this herbal medicine comes into the recipe, the big challenge for marijuana chefs these days is to mask the taste. Because it's still extremely difficult to go out fine dining with cannabis these days, most of the best cannabis recipes have been fashioned at home. This is the beautiful thing about the current canna-cuisine situation. The web might be the only place you get to meet many of these canna-chefs for a while, until the world opens up its doors for the public marijuana dining experience.
1. Payton Curry
This man is already one of the USA's favourite chefs, working in Arizona. He quit his job working in Michelin-star restaurants to join the revolution of cannabis cuisine. His book, the Nutritional Marijuana Cookbook, is awaiting public release, and explores ways you can include marijuana in a nutritional diet.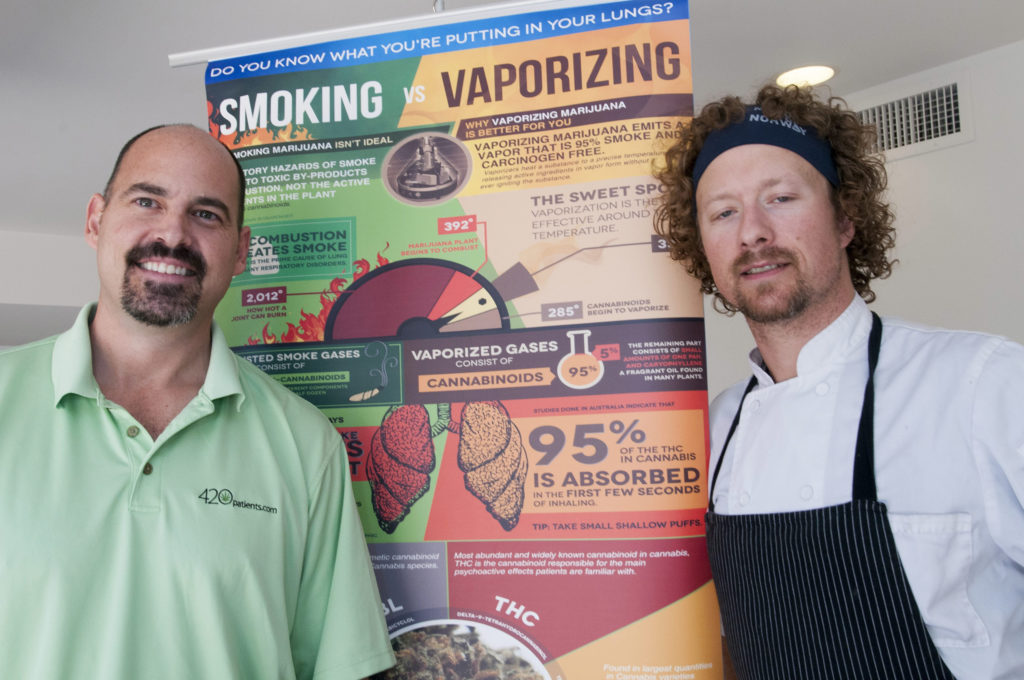 Payton Curry has launched his own line of edibles called Flourish, which stocks over 50 dispensaries in Arizona and California with delicious cannabis treats. On top of this, he works with the Arizona Epilepsy Foundation, teaching patients how to incorporate cannabis into their cuisine.
2. Chris Sayegh
There isn't really such a thing as cannabis restaurants yet, but Chris Sayegh takes it upon himself to bring pop up weed dinners to your table. He has coined himself the Herbal Chef, and is developing a frozen dinner line to send to patients who could use this kind of nutritional supplement. Having loved marijuana for a long time, and born with a touch for cooking, he saw no harm in reconciling two things he loves about life!
3. Chris Kilham
Chris Kilham is more than a chef, more than a marijuana lover and more than a creator of cannabis cuisine. He is the author of 14 books and lives up to his title, "The Medicine Hunter". He lives and breathes herbal medicine as an ethnobotanist, especially the ways we incorporate these herbs into our physical and spiritual lives.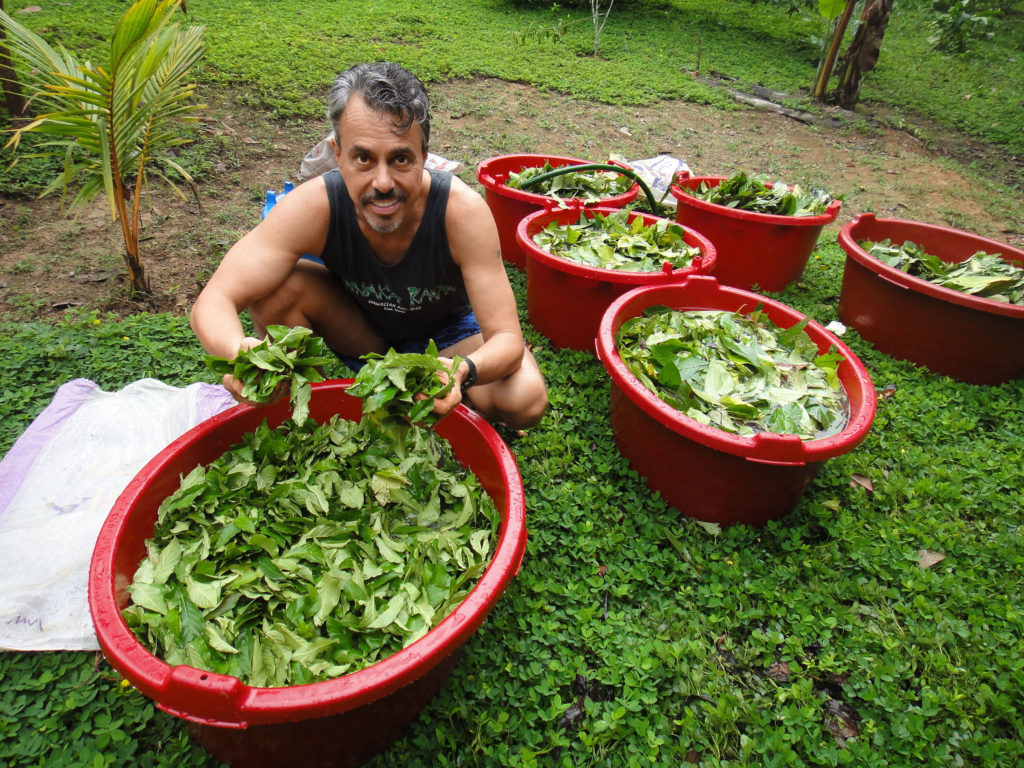 Chris Kilham educates the public about the importance of herbal medicine through his advisory on the Dr Oz show and his work for Naturex.
He is most world famous for his 20-minute cannabis olive oil infusion, as well as a whole lot of other cannabis infused superfoods!
4. Scott Durrah
Scott Durrah is a cannabis chef with a foot in every river. He has owned world famous restaurants in LA, Denver and Jamaica. His culinary expression is a mixture of his Italian heritage, his upbringing in Boston and of course, his Rastafarian contemporaries in Jamaica.
While many other cannabis chefs show off their skills by hiding the flavour of cannabis, Scott Durrah is more interested in enhancing the flavour of it and making it work in food!
5. Melissa Parks
This lady is one of the most bad-ass cannabis chefs in the USA. She is famous for culinary creations that are delicious and easy to create. She doesn't shy away from the basics, like a good cannabutter recipe.
Melissa Parks is the author of many recipes that can be made right at home, without the need for a professional in the kitchen. Her Thai Chicken Wings and Avocado Crab Pasta would fool anyone into thinking that they were cannabis-free meals!
6. Hosea Rosenberg
Hosea Rosenberg might not be famous for putting cannabis in the food, but he has become internationally known for pairing strains of cannabis with different meals.
That's right. He's the man to consult when you want to know which weed you should smoke before eating your fish. Most people didn't even know there was a market for this kind of cannabis dining, but marijuana enthusiasts aren't shy about taking their love to the next level.
Rosenberg is famous for a few special dishes that he believes are enhanced by the marijuana experience itself. His recommendation for a flatiron steak with potatoes and squash? White OG, because of its spicy aroma.
7. Mindy Segal
Whipped peanut butter milk chocolate and toffee brittle with roasted almonds all infused with cannabis. This is what happens when you bring together the winner of the James Beard Award and Cresco Labs (a medical marijuana cultivator in Illinois). Does that sound like the most delicious way to get THC into your system? We think so, too!
Mindy Segal is something of a culinary sensation right now, satisfying the sweet teeth of a lot of cannabis enthusiasts. Well, there's no reason that pastries shouldn't be cannabis infused, and there's no reason that cannabis infused pastries shouldn't be delicious!
8. Xavi Petit
This creative private chef started his culinary journey in the Canary Islands. Since his entry into cannabis cuisine, he has delighted in challenging himself past the traditional weed brownies and chocolates. His cannabis career started in Barcelona, where he hosted private dinner parties and served cannabis cocktails.
Xavi Petit's cannabis dinners are personalised, just like weed itself, taking into account the experience his guests have with cannabis, their ages and what type of cannabis experience they are looking for. Legal issues stop him from serving cannabis infused food in a restaurant or bar, and that's why he goes down the road of dinner parties.
Xavi Petit can probably be described as an all-rounder, as his culinary work is much greater than what he creates with cannabis. Not every single one of his dinner parties is a cannabis party, but it's always on the menu in case it's the desired flavour!
9. Herb Siedel
Just like the abovementioned Chis Kilham and Scott Durrah, Herb Siedel is another contributor to the Cannabis Kitchen Cookbook, although his influence in the culinary cannabis scene was greater in the past.
His culinary history was a mix of fine dining training and being super health conscious. He describes the infusion of cannabis into food as a way to bring the food alive, so that all the goodness of food can be fully received into the body.
Talking about all that food makes a stoner hungry, right? We hope you were inspired by cannabis cuisine and fancy yourself a little bit of a foodie. You can check out our recipes for pot brownies, Christmas edibles or some savoury CBD-infused edibles!