Do you associate smoking weed with paranoia? If so, there are many reasons why some feel these effects and others don't. But the good news is we compiled a few tips to help make your experience more enjoyable and less panicky. The environment you set for yourself and the levels of THC can make all the difference. Read on to learn more tricks to keep paranoia at bay.
If you've ever smoked weed and been left feeling paranoid, it may have turned you off from wanting to try it again.
Or, if you're interested in how to smoke weed for the first time, feeling paranoid might be one of the things that you're worried about happening. Feeling paranoid is one side effect that is most often associated with smoking weed, to the point that it has almost become a cliché.
It doesn't have to be that way though.
Whether you're a first-time smoker or have a lot of experience, there are things you can do to help you stay cool and calm while smoking.
Read on to learn why that paranoid feeling happens, and how to smoke weed without losing your cool.
Why weed might be making you paranoid
There is no right way for how to smoke weed, and everybody reacts to it differently. Just because your friend never gets paranoid when smoking doesn't mean that you won't.
Each time you smoke weed might be different too, so you couldn't get paranoid one time and then be completely fine the next time you smoke.
The question is, why does this happen?
1. The more THC, the more paranoia
THC is the main psychoactive found in weed. It is the component that causes you to experience things in a different way when you smoke.
Studies have also found that THC is the component in weed that can cause a paranoid reaction in your brain. A stronger joint will have more THC and is more likely to give you a paranoid feeling.
2. You feel like you have to hide what you're doing
Since smoking weed is still illegal in the majority of the countries, most of us don't know how to smoke weed without some feeling that we're doing something wrong.
If you're smoking weed somewhere where it is still frowned upon, you may feel like you have to hide what you're doing from people.
You might feel paranoid even before you start smoking. Once you do light up, you already have those thoughts in your head. As you get high, it's possible that those thoughts will intensify.
3. You're older than you used to be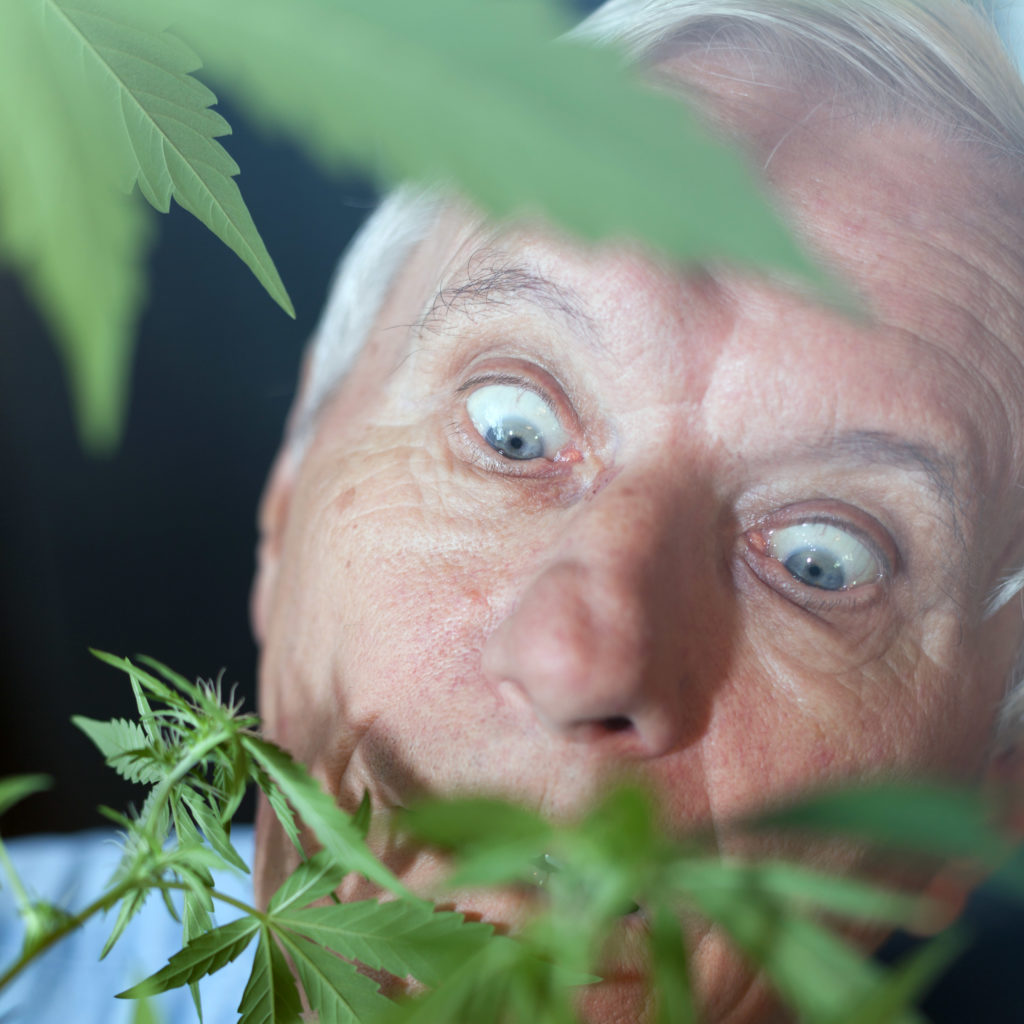 The older you get the more you might know about how to smoke so that you get the best high and the best experience. But if you notice that you get more paranoid now than you used to, your age might have something to do with it.
As we get older, the association we have with smoking changes. The older we get the more worried we are about being seen that way just because we smoke. That's another paranoia that's already there even before you start smoking.
Also, your brain changes as you get older so the way your body is reacting to weed might change too. What left you feeling silly and goofy as a teenager could make you anxious and worried as an adult.
4. You feel your feelings in a different way
Smoking weed can intensify your feelings. It brings out different emotions that you may not always deal with when you're sober. For some people who deal with anxiety, weed can help them to feel more relaxed and calm.
For others, smoking can make them more aware of those anxious feelings in a way that results in paranoia. For people who are uncomfortable being out of control or not having a firm grasp on themselves, the relaxation that weed causes may actually make them feel uncomfortable and paranoid.
What you can do about it
You shouldn't let the fear of being paranoid stop you from smoking weed. Especially since there are ways to smoke that won't leave you feeling that way. Knowing how to smoke weed so that you don't feel paranoid is simple.
There are easy tips and steps to follow to make sure you get the right kind of weed and are in the best environment to give you the experience that you want.
1. Set the scene
Being in the right environment to smoke is important, especially for first timers. Deciding how to smoke weed so that you're comfortable may take some trial and error.
If you're just starting out, try to smoke in a place you know well with people you trust. Knowing that you're around friends and in a safe place will give you less to be paranoid about before you start smoking. That can help you to not feel paranoid once you do start.
Also, choose a method to use cannabis that you feel confident about. If you know what you're doing, it will make the whole process less stressful.
2. Wait and see how THC impacts you before smoking more
The simplest rule of how to smoke weed so you don't get paranoid is to limit the amount of THC in the weed you're smoking. Start off by consuming a small amount of cannabis and wait a while before taking more. You can judge how it affects and how you're feeling, and decide where to go from there.
If you're consuming edibles, this is especially good to keep in mind. In states where weed is legal, dosage information will be available on the package to help you judge how much to eat.
If you're eating brownies a friend made, though, it's a lot more of a guessing game. Start with a small amount and wait an hour or two before deciding if you want more. It can take at least that long for the full impact to hit you.
3. How to smoke weed with THC vs CBD
THC and CBD are the two most widely known cannabinoids found in weed.
THC is psychoactive and binds with receptors in your brain, which is why it can alter that way you experience things. It's what causes the "high" feeling we associated with smoking weed. It is also what could make someone who is smoke weed feel anxious or paranoid.
CBD is non-psychoactive and can even block the effects of a psychoactive like THC. Unlike THC, which will give you your high, CBD is credited with the benefits we associate with medical marijuana, like providing pain relief or helping with insomnia.
Knowing what THC does compared to what CBD does can help you know how to smoke weed so that you only get the positive side effects and none of the negative one.
Finding strains of weed with high CBD and relatively low THC can give you a great experience without the potential paranoia.
4. Know that you're going to be okay no matter what
It's natural to freak out if you start getting the feeling of being too high. It can be a scary feeling and one that not everyone knows how to deal with. The higher you feel, the more you worry about how high you feel and the more paranoia starts to set in.
One important thing to remember is that no matter how high you are, if you keep calm and ride it out, you'll be okay again.
Getting too high or smoking too much weed cannot cause death or injury due to overdose. The effects of smoking too much weed might make you feel like you're in danger, but you really aren't.
Do your best to remember that it's just a matter of time before you feel ok again, and that will help keep you from getting paranoid on top of everything else. Have friends remind you or, if you're really nervous about it, write yourself notes and reminders before you start to smoke.
Being reassured that, no matter how high you feel, you will be ok eventually can be an important part of knowing how to smoke weed without getting paranoid.
5. Do the things you love
Figuring out how to smoke weed and do the activities you love while high can make for a better and more relaxed experience. Set yourself up for success beforehand.
If you love listening to music, make sure you have a good playlist lined up. If you love to cook, get all of the ingredients together to make an easy meal that you can enjoy when you start to get hungry.
Whatever it is that relaxes you when you aren't high will make you feel the same way when you are high. Think about what you want to do beforehand, make sure you're set up with everything you need to do it, and then start to smoke.
Your experience will be more relaxed and you'll have spent the time doing something that you know makes you happy.
6. Eat and drink your way to relaxation
Drinking water and staying hydrated is important even when you're not smoking, but it can make for a much better experience if you are.
The better condition your body is before you start smoking, the more relaxed you'll feel as you start to get high. Water plays a big role in that.
And keeping drinking it even after you smoke. Focusing on the sensation of cool water sliding down your throat can distract you from any feelings of paranoia that may be starting to creep in.
As crazy as it sounds, black pepper is a good way to combat feelings of paranoia. Because of the chemical components in black pepper, if you smell it when you're high it can have a soothing effect.
Stock your pantry with whole black peppercorns, and if you start to feel anxious or paranoid when high, crush them up and inhale deeply through your nose.
Chemicals in lemons have work for this too, although in that case, you will have to consume the lemon juice or lemon zest to be soothed.
7. Don't try to do too much


It can be hard to figure out how to smoke weed at a time when you don't have anything to do. If you're prone to getting paranoid, though, it could make a big difference in your experience.
A lot of weed-induced paranoia comes from being around people who you might start to think are treating you differently. It could also come from having tasks to accomplish and feeling like you can't do them right. It could even come from a sense that everyone around you can tell that you're high.
Try to carve out a solid block of time when you know you don't have anything to do that you'd have to leave the house for. Also, try to avoid smoking with people that you'd be embarrassed to be really high around.
If there are things that you want to do when you're high, set yourself reminders about them while you're sober. Setting up an alert on your phone to eat lunch or to remind you when your favourite TV show is coming on will serve as a reminder to focus on those things when you're high.
Having the structure of a schedule of things–even if they're just simple things that you do alone at home–can keep you from freaking out about how much time has passed or what you're supposed to be doing.
You won't have to be worried about forgetting to do anything because there isn't anything that you were supposed to do.
Everyone can have a good smoking experience
If you're nervous about smoking weed or if you've had a bad experience in the best, don't let that stop you from enjoying it forever.
Doing some prep beforehand and following a few simple tips for how to smoke weed without getting too high can result in a great time.
For more information on how to smoke weed, check out our blog. Still have doubts? Feel free to contact us at any time.