Wilting and drooping leaves on a marijuana plant are usually a result of too much or too little water arriving in the roots. For the plant to continue growing normally, the problem has to be fixed right away, otherwise plant growth can be compromised. To learn how to fix a marijuana plant that has begun wilting or drooping, read this article.
A cannabis plant with wilting or drooping leaves is quite a sad looking one, and it's important to keep your plants looking happy. A case of wilting cannabis leaves can happen to any grower and there are ways out of the situation if you find yourself in it. These two problems are generally caused by overwatering or underwatering your plant and are easily avoidable if you pay close attention.
So new growers should have no fear. Wilting cannabis leaves are not the end of your marijuana garden, but if you want to ensure a good yield, you should attend to the problem straight away.
The difference between drooping and wilting cannabis leaves
It's important that you don't confuse wilting cannabis leaves with drooping leaves, because they have completely opposite causes. Wilting is what has happened to your leaves when they have begun to curl at the tips. The tell tale sign that your leaves are wilting is that they have also started turning yellow on the tips that are curling under. On the other hand, drooping is distinguished by the droopiness of the entire leaf, rather than just the tips. When your plant is drooping, you will not see yellow tips on the leaves. Drooping leaves are also firmer than wilting leaves, which just look tired and lifeless.
Before you go on trying to fix your cannabis plant, it's important to know whether your plant is wilting or drooping. The action you take to rectify this will all depend on this factor, so observe carefully.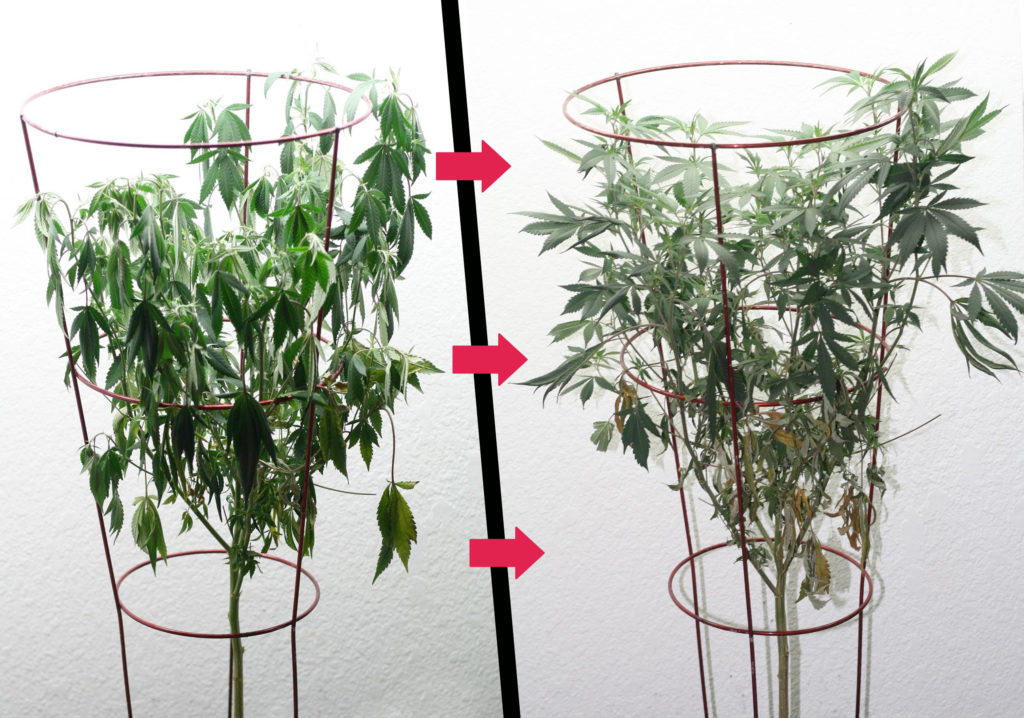 Overwatering marijuana plants
Overwatering cannabis plants is a common mistake among growers, and it results in drooping leaves. However, overwatering has not occurred as a result of using too much water, but rather that the plant has been watered too often or it is being grown in a pot without appropriate drainage. In this scenario, the problem is actually at the roots, where they begin to rot. Too much water stored at the roots can impede the access of oxygen within the soil to the plant, causing rot and drooping.
This problem can also be caused by the kind of pot and potting mix used. It is essential that there is proper drainage in the pot you are using to grow marijuana and the same should apply to your potting mix. Actually, it is common to let marijuana plants dry out a little bit between waters, and drooping is a clear sign that this hasn't happened.
If drooping has occurred to your marijuana leaves, lift up the pot and make sure that water is draining out from the bottom. If not, you might have to move your potting mix around a little to ensure that it is not too tightly packed in there, disallowing the flow of water. You don't need to lower the amount of water you are giving it, but rather the frequency of waterings needs to drop. You will know when your plants need watering by the first couple of inches of soil. When they are completely dry, it's time to water it again. However, while the soil is still dark and moist, the plant does not need more watering.
Addressing this issue quickly is best, and it will usually happen overnight. When your plant is over watered, it becomes much more vulnerable to other diseases, so it is important to get your roots back into shape quickly.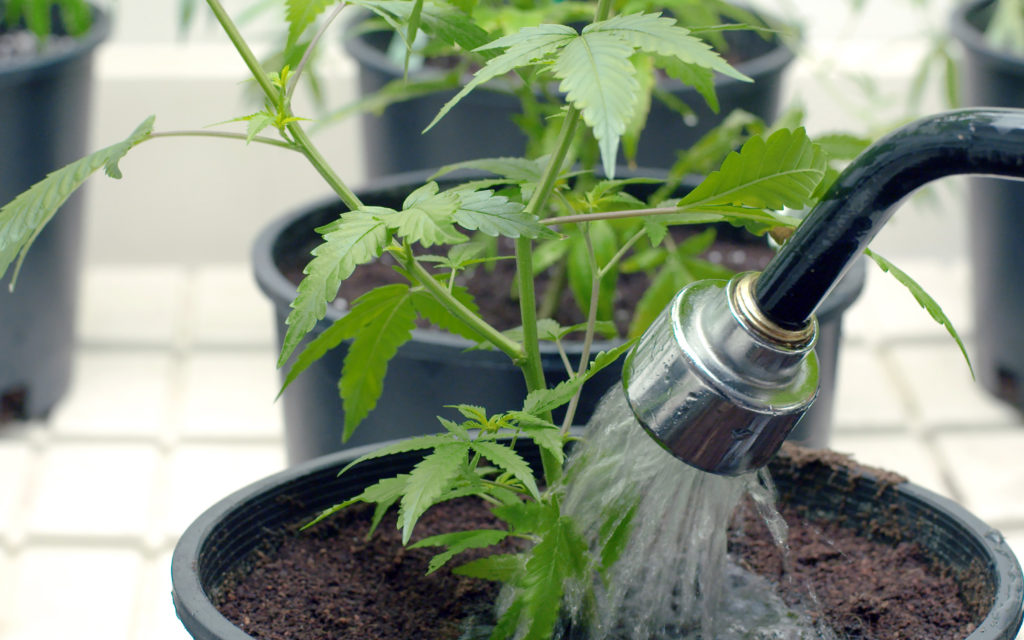 Underwatering your cannabis plant
Underwatering your marijuana plant is usually the reason that the leaves begin to wilt. Wilting cannabis leaves look much sadder than drooping leaves, have curled at the ends and have begun to turn yellow. In fact, they look lifeless and it can make a grower completely freak out. Wilting means that the roots of your plants are bone dry. They will grow much slower under this condition; so the sooner this is fixed, also the better.
At this stage, you should consider watering your plant more often, and at the beginning perhaps giving it a little bit of extra water to compensate. Be careful not to throw the plant off balance again by continuing to overwater it. Don't mix any of this water with fertilizer, as it won't assist with the problem of wilting. You just need to ensure that the water is pH balanced, and use it purely for the purpose of rehydrating your plant. After some time they will start to look happy again and you can go back to using your nutrient-rich water.
Hydroponic growers
For those that are growing hydroponically, it is basically impossible to be underwatering. However, some hydroponic grow systems are still subject to root problems which could be the cause of drooping. It is probably a sign that the roots have begun to rot and are disallowing oxygen into the roots. This can be solved with an air pump to provide the water with more oxygen.