Size doesn't always matter, but in this case, it does. This is for those who are in the mood to harvest an enormous amount of cannabis. Although producing a high yield with enormous buds can be affected by numerous factors, a good place to start is in the strain you choose. Here are the strains with the biggest buds.
Every grower wants to try growing a strain of cannabis that has a ridiculously high yield. Sometimes it's just nice to harvest an enormously large amount of cannabis and brag about it to your friends. And there is absolutely nothing wrong with that. So this article is all about the strains of weed that produce the highest yield. As much as size doesn't matter, in this case it really does.
It isn't always about having the best-quality bud, but just about having a lot of it. So if you're looking to experiment with how much yield you can get out of one plant, a good place to start is with the strain you are using. There are a number of techniques you can use to increase yield, but the best one to start with is a strain that is particularly well known for producing a lot of big buds!
Big Bud
It's all in the name. This strain of weed grows ridiculously huge buds on it. Big Bud strain produces beastly sized buds in what we could consider an average flowering period of 50-60 days. This strain has a very peculiar look and smell to it, although it isn't the strongest strain of weed in the world.
It has a relatively low THC content and, although it is good enough to get the job done, it is not going to be anything special for the seasoned cannabis user. It doesn't offer too much in the way of medical properties, other than being a good remedy for insomnia. It is the kind of weed that makes you pretty sleepy right away.
However, this strain is notoriously famous for its high yields, and it is recommended that you give it a chance if you're looking to produce a big fat bag of weed.
Northern Lights
Northern Lights, on the other hand, is one of those strains that's going to benefit you in more ways than one. Aside from being a very potent indica-dominant hybrid, it is also an incredibly high-yielding strain of cannabis. If you're a grower needing to grow a lot of good-quality weed, this is definitely a good strain to be starting out with.
It has been measured that this plant offers about eight ounces of potent cannabis to each six- to eight-foot plant. Most Northern Lights plants will grow to be this tall, so it's not unusual to get an extremely high yield from this plant. The flowering period is a little bit longer on this one than with other strains, but it is well worth it for a lot of very potent weed.
Medically recommended for treating stress and anxiety, as well as good medicine for pain relief, the indica dominance means it is a sedative kind of weed, relaxing the mind and the body.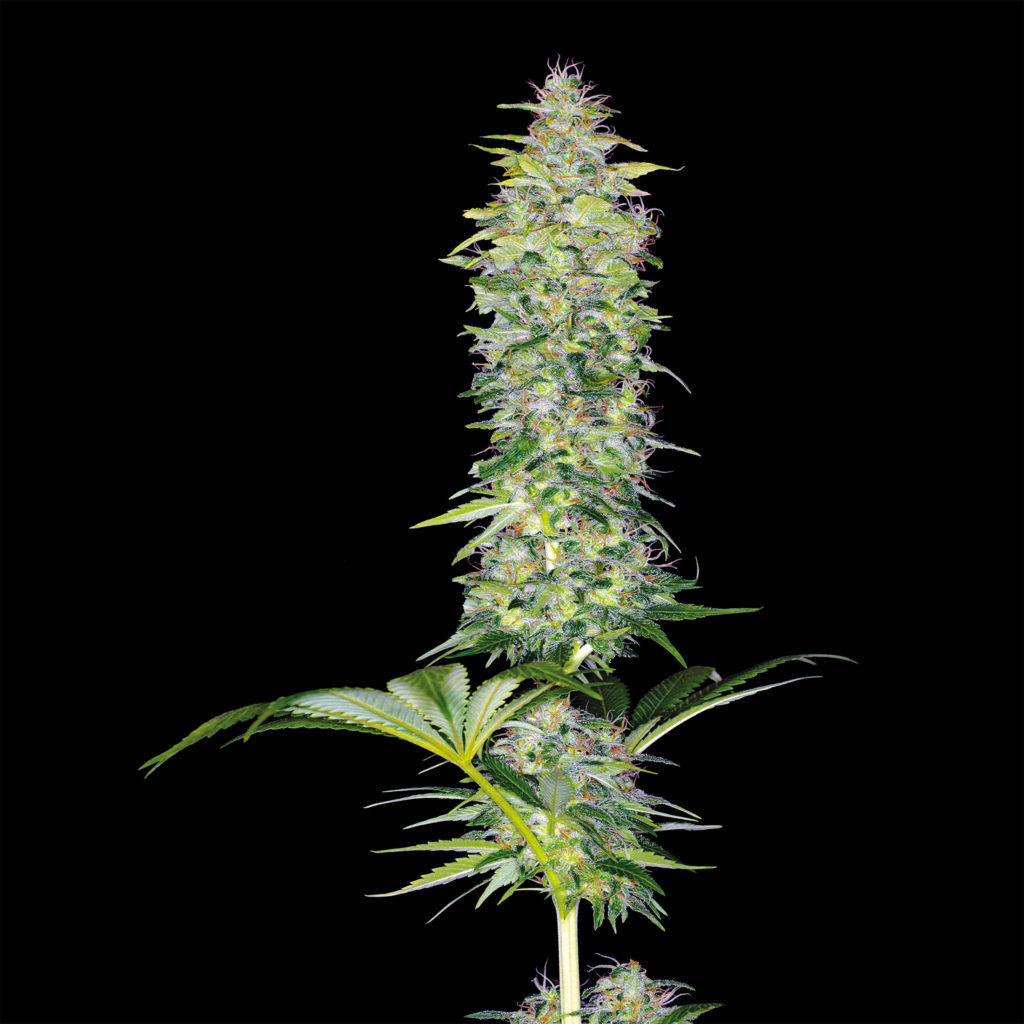 Skunk #1
This is arguably one of the most popular strains of weed, a classic strain that packs a very pungent smell. Almost everyone can enjoy smoking a little bit of skunk. For growers, this plant is a win because it is a good-quality smoke that produces quite a heavy yield.
This plant is strong and resilient, making it a really good plant to grow if you're just starting out for the first time. You might impress yourself and others with a high yield of very good-quality weed. You can average around 6 ounces of buds with the Skunk strain!
White Widow
Well, of all of the big yields, this one just about takes the cake. This strain has one of the highest yields of any other hybrid on the seed market. This also happens to be one of the market's favourites, with people all over the world being familiar with the White Widow strain.
The beautiful thing about White Widow is that it also does not require a very long flowering period. With an average flowering time of 55-70 days, White Widow produces a fast turnover of ludicrous amounts of weed. It produces up to 21 ounces of cannabis per 10 square feet. This makes it an extremely profitable option for growers.
White Widow also happens to be one of the most popular medicinal strains of cannabis. Its indica property makes it extremely good at treating chronic pain and also very effective at treating stress.
Jock Horror
Jock Horror is a very fine strain to have in your cannabis garden and is a sativa-dominant hybrid. This one produces high yields, too, and it's no surprise, given that its parents are Northern Lights and Skunk, two other high-yield strains. The big buds on the Jock Horror strain are usually covered in beautifully glistening trichomes that make the mouth water.
Also an extremely effective medical strain, Jock Horror is used mostly to treat nausea. It is a very happy medicine, so it's good for treating depression as well. However, beware with this strain. The sativa side is strong, which means it is not good for those that are stressed or have anxiety.
Durban Poison
This is definitely one of those strains where you do not need to compromise on quality to get a big fat yield. This hybrid is 75% sativa, making it an extremely strong strain of cannabis. The buds on this strain are big and chunky, and they, too, are covered in beautiful shiny crystals.
The high from Durban Poison is very uplifting and energetic, creating a lot of inspiration to get through a day's work. It is definitely not one to be using at bedtime because of the high sativa content. This strain is known to grow as tall as 8 feet, even if you're making a concerted effort to keep its height under control. You can really achieve quite a heavy yield from this plant compared to other sativa varieties, and in an average flowering time. This strain does, however, require a little more attention than others and requires a bit more of a seasoned grower to successfully get a high THC content and a good yield.
Chronic
This Chronic is chronic in all the ways it can be. It has a chronic effect and produces a chronically large yield. It is almost the measure by which a lot of smokers measure their quality of weed and is a popular strain all over the world. This strain comes from Northern Lights, AK-47, and Skunk genetics, so it's no surprise that it's on the list of high yielders.
This strain forms enormous colas and has very few leaves, so you can just imagine the size the buds get. There's just about no way to make the yield get any higher on this strain. It is not recommended for beginners to grow this strain, as it is a little bit more complicated than others and requires more attention.